The Best Sump Pump For 2020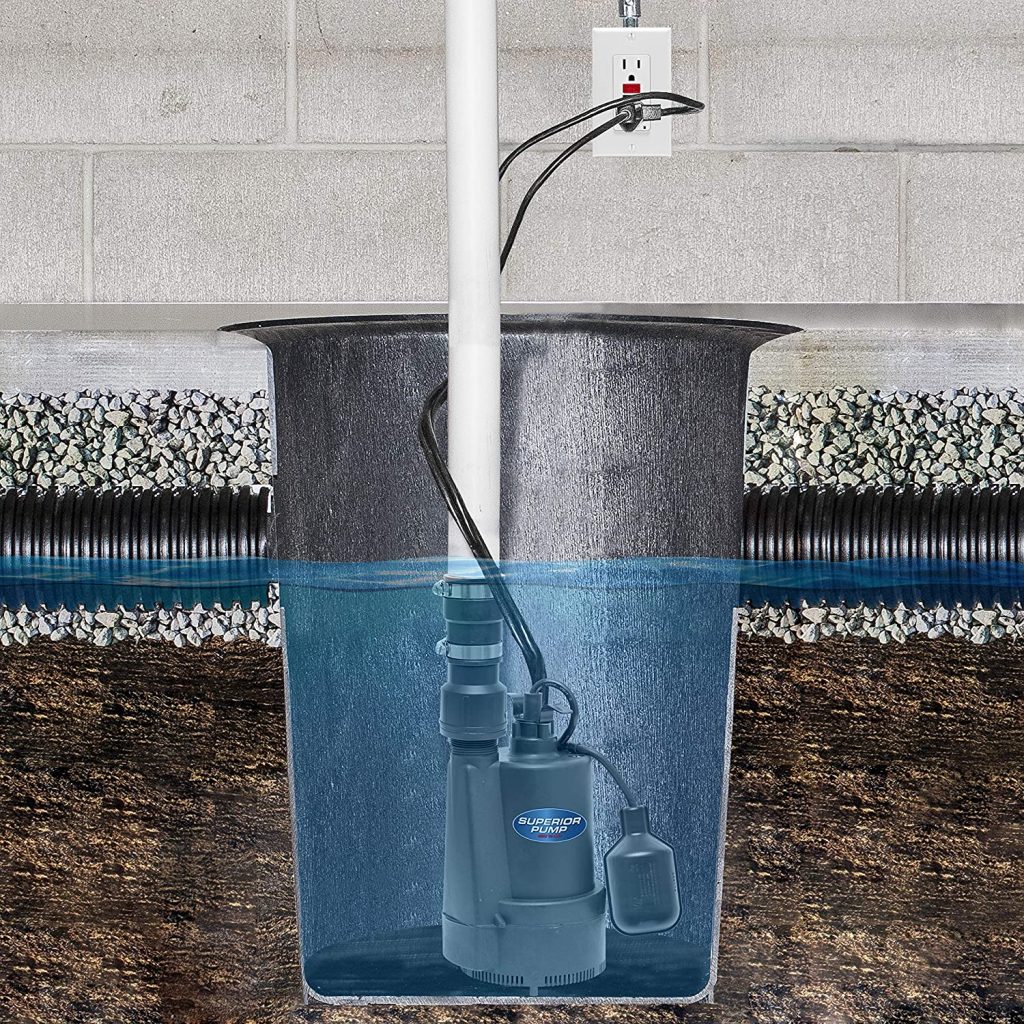 When a flood strikes, you'll want to have the best sump pump available to get water out of your home or business fast. In addition to having a good insurance plan for protection, a sump pump can help remedy a flooding issue in a flash. Check out this list to learn more.
Despite your best efforts, sometimes water can manage to get inside your basement or crawlspace, damaging your property. Investing in a reliable sump pump can help take the headache out of water removal.

Sump pumps are an efficient and effective way to get water out of your residence or commercial property, reducing the amount of damage that long standing water can cause. Broken pipes, natural disasters, or improperly installed fixtures can all lead to water damage.
The best sump pump is a working solution that is cost effective and should last about ten years. However, depending on whether your sump pump is covered by a warranty or insurance, the frequency of use, and maintenance will impact longevity and operation.
You might want to purchase a sump pump if…
You live in an area that is prone to flooding due to the geographical location of a floodplain, coast, etc.
You have flood insurance but want additional protection to keep spaces dry and free of mold or mildew.
You want the security of being prepared in case of an emergency.
You want to add to the value of a home.
Purchasing a sump pump is an affordable way to buy some peace of mind for your home.
Due to inclement weather, unstable soil that is overly saturated, or overworked plumbing and drainage, flooding, mildew, and mold can build up in your basement or other areas of your home. A sump pump helps keep water levels in check and protect against water backing up into your home and consequent damage.
Insurance And Flooding
Whenever possible, you will want to sign up with a reputable company for insurance to cover your property against flooding and protect your sump pump.
Even the best sump pump can be subject to overflow and may fail to do its job correctly. In case there is backed up water in your property, or your sump pump is unable to tackle a larger than typical event, you will want to protect your investments.
The average homeowner's insurance may not cover sump pump failure but may require an add-on to an existing plan. It is vital to look over all insurance plans before signing off and ensure that your sump pump is covered in case of failure or damage.
How We Choose Our Ratings
The following sump pumps were chosen after carefully considering the brand reputation, capacity, and performance. Depending on the average needs of a home or business, we wanted to make sure the list of sump pumps compiled met the needs of a range of customers.

Top 7 Best Sump Pumps
Here you will find a listing of some of the best sump pumps available in either a pedestal or submersible model. When you want the best sump pump, you will want to consider the space in which it will be housed, the flow rate, and the quality of construction materials.
Zoeller M84 – 1/2 HP Cast Iron Pedestal Sump Pump w/ Vertical Float Switch
Zoeller 84-0001 Old Faithful 84 Pedestal Pump, 1/2 HP, 115V
Metal enclosed, split phase motor, permanently lubricated, thermal overload protected
Heavy-duty thermoplastic or cast iron constructed pump housing and base
1 1/2" FPT discharge
Adjustable 12" cycle, factory set at 9"
Max on: 16" (41 cm); Min off: 4" (10 cm)
Zoeller is a respected company that is family owned and provides sump pumps and products that help move water. This pedestal sump pump receives high marks all around, weighs 23.3 lbs., and comes with a cast iron pump housing for greater longevity.
You'll appreciate that this pump operates with a low amount of noise, to not disturb you.
The top of the pump is capable of filtering lint and small solid debris in the water and can be operated in both residential and commercial spaces to move groundwater.
The motor is placed, so it is above the pit cover to keep it protected, and the polyethylene float is resistant to chemicals and makes use of a positive displacement switch. The 12″ cycle is adjustable, and each sump pump is factory tested before release.
Pros
Cons
-Fairly quiet operation
-Easy to install
-Adjustable 12″ cycle
-The design may allow moisture to impact motor function
WAYNE CDU800 1/2 HP Submersible Cast Iron and Steel Sump Pump With Integrated Vertical Float Switch
Wayne is another trusted brand for sump pumps, and they don't disappoint with this popular model.
This submersible sump pump comes with a 3-year warranty and is constructed using a cast iron base and pump housing, with a thermoplastic cover. When the float rises to a set level, the sump pump is triggered into action. Thanks to the design, you won't worry about the float catching onto the basin wall.
You will want to use this pump in pits that are at least 11 inches. This model is an excellent choice for a primary or a backup sump pump, weighs 18.5 lbs., and can remove 4200 gallons per hour. This pump combines both foreign and domestic parts.
Pros
Cons
-Relatively quiet operation and easy installation
-Suitable for backup or primary
-AC battery operated
-The model doesn't come with an alarm to alert when in operation
Superior Pump 1/4-Horse Power-Thermoplastic-Submersible Utility Pump
Superior Pump 91250 1/4 HP Thermoplastic Utility Pump, Black
1/4 HP Utility pump moves up to 1,800 gallons per hour; pump will lift water up to 25' of vertical height
Tough thermoplastic construction; 10' cord length
1-1/4 inch NPT discharge for high capacity pumping; includes 3/4 inch garden hose adapter
Removable suction screen and handles up to 1/8 inch solids
Superior Pumps are Built to Last, engineered with quality components and are 100% factory tested
Don't let the size fool you; this sump pump is capable of handling tough jobs while taking up little room.
This sump pump comes with its own filter to limit debris and is clog resistant. Housed in thermoplastic, this sump pump runs strong and will withstand multiple uses for a long time. You can use this pump with or without the accompanying float.
Although it is compact, this pump can pump out water with a vertical hose height of 25 feet and uses a 115-volt motor. We like this pump because it doesn't overheat or seize up when there is no more water left to pump. Also, this pump doesn't need a lot of water standing to begin operation.
Overall, for the performance of this pump over-delivers and is suitable for a backup or everyday primary pump.
Pros
Cons
-Small design allows the pump to fit in tight spaces with limited room
-The powerful operation removes 30 gallons per minute
-Useful for basements, pools, farms, and more
-The power cord may prove challenging to use when operating pump in cold weather.
WAYNE WSS30V
No products found.
When an emergency arises, you will want your sump pump to be ready. This model is an excellent choice in case of a power outage, as it is battery operated, which makes it ideal for a backup pump too.
Weighing at 24 lbs., and outfitted with a nine-foot power cord, this model is capable of displacing a maximum flow rate of 4,200 gallons per hour. The flow for the backup is 3,300 gallons per hour at zero feet and stops beyond the 15 feet mark. You will want to place this pump in a pit that is a minimum of 15 inches.
This model comes with a 5-year warranty and is constructed with a cast iron and stainless steel housing.
Pros
Cons
-Pre-assembled and ready to go right out of the box
-Includes a backup sump pump that operates using a 12-volt battery
-The design is resistant to corrosion and allows for high flow rate capacity
-You will have to buy the battery for the backup sump pump as it is not included
WAYNE CDU980E 3/4 HP
Wayne has been in the business of sump pumps for almost one hundred years, and their products continue to wow customers who put them to use.
This fully submersible sump pump is built tough, comes with a 5-year warranty, and is self-priming in a housing of cast iron and stainless steel. The pump switch is vertical, and this model has a maximum pump height of 26 feet. The power cord is also submersible and protects against short circuiting.
The ¾ horsepower allows for more water to be moved out faster than other sump pumps, and the operation is reasonably quiet.
Pros
Cons
-A high flow rate of 4600 gallons per hour
-Suction design reduces debris and clogging
-Stainless steel and cast iron construction
-Power cord stops at 8 feet in length
Superior Pump 92330 1/3 HP Thermoplastic Sump Pump with Tethered Float Switch
Superior Pump 92330 1/3 HP Thermoplastic Sump Pump with Tethered Float Switch, (Top Discharge), Black
1/3 HP Sump pump moves up to 2,400 gallons per hour; pump will lift water up to 25' of vertical height
Tough thermoplastic construction; 10-foot cord length
Tethered float switch to automatically turn the pump on/off. Pumps Down To 1/2 inch From Surface When Used As Utility
1-1/4 inch or 1-1/2 inch NPT discharge for high capacity pumping
Superior Pumps are Built to Last, engineered with quality components and are 100% factory tested
This sump pump is resistant against corrosion, thanks to a thermoplastic housing. Equipped with a 4.1 amp motor and using 1/3 horsepower, this sump pump is capable of pumping 40 gallons of water per hour.
You will find this sump pump to be versatile because of its size and dimensions, and it is energy efficient to keep energy costs low. The float switch is tethered so it cannot be easily removed to operate this pump for utility needs.
This pump is an excellent choice because it has served the needs of customers for multiple years and is capable of removing 1,500 gallons of water in two hours. However, some people have felt that the float is not sensitive enough to trigger the sump pump to turn on to remove water.
Pros
Cons
-Comes with a one-year warranty
-Works well for small basement spaces or emptying pools
-The float switch is not removable
Flotec FPPM3600D-01/09 1/3 HP Pedestal Sump Pump
When flooding strikes due to inclement weather, you will want this pedestal sump pump installed to keep your spaces dry. You will need a pit that is at least 12 inches in diameter for this pedestal sump pump, which is capable of removing 3,840 gallons per hour at zero.
A fine mesh screen will help filter out debris to prevent unwanted clogging, and keep your sump pump chugging along. Instead of a plastic float lever, this model has a more durable metal one.
The on and off switch is vertical and allows for easy adjustment of cycles so that you can ensure the longevity of the pump's motor. The housing and base are both durable and corrosion resistant thermoplastic.
Pros
Cons
-Budget-friendly model
-Thermoplastic construction and pedestal style
-Uses 1/3 horsepower and pumps 2,460 gallons per hour at 10 feet
-Doesn't include a backflow-valve
Buyers Guide
Before you run out and buy a pump, consider the cost of your investment, construction material, and flow rate offered. You might want to strongly consider the benefits of a versatile sump pump that can be adjusted for utility functions, thanks to easily removable parts.
Depending on the space that your sump pump will sit, you may need a more powerful pump that can handle removing more substantial amounts of water quickly, or can maintain optimal operation despite cold temperatures in winter.
Don't rule out a smaller pump that has a powerful motor with a higher amount of horsepower to get water out quickly. Consider whether your pump is fully enclosed, uses thermoplastic, or has parts that might be exposed to water and contaminants that can cause damage.
Don't just bargain shop, and consider purchasing a backup sump pump that is battery operated in case the power fails. Some models include a backup, but you may have to buy an extra battery.
Make sure that there is a significant warranty to cover parts and labor in case your sump pump is defective, and take care of cleaning your pump to reduce clogs and inoperability.
Make sure to thoroughly investigate your options and needs, and do not wait until the last minute to scoop up a new pump right before disaster strikes. Flooding can happen at any moment because of a broken pipe, foundation problems, weather, or other unforeseen causes.
Being prepared by purchasing a quality sump pump that will last you between three to five years is ideal, whether it is a submersible or pedestal model. Some models may have a way of signaling that they are in operation, or may let you know when they need maintenance or replacing.
No matter your choice, grab a quality sump pump to be ready for anything and protect your property.
Last update on 2021-01-23 at 18:11 / Affiliate links / Images from Amazon Product Advertising API