Eddy Electric Water Descaler (Magnetic System) – 2018 Review
If you have done a little research into the types of water softeners on the market at the moment, you would have come across the Eddy Electronic Water Descaler, which is said to be a great alternative to a water softener system- it basically does the same thing as a traditional water softener, but in a different way.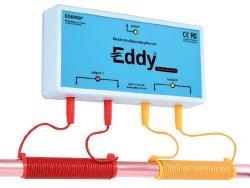 This product is a little different to most water softening systems as it uses magnetic fields to combat the effects of hard water, and nothing else. It doesn't remove the stuff that causes lime-scale buildup, but it suspends it, meaning your hard water wont trouble you for 48 hours. If you want to learn a little more about about how magnetic water softeners work, check this page out.
The Eddy descaler is a very popular item in the world of water softening, but there are mixed reviews- lots of lovers, but plenty of haters.
We take a closer look into this system, and reveal the best situations in which to use it.
Small & compact size
Inexpensive
Can be installed within minutes
You will still get the health benefits of drinking hard water
Magnetic system - only 'delays' the effects of hard water (does not eliminate hard water 100%)
Not recommended for water hardness above 20 GPG (works best is your water hardness level is 10 GPG or under)
Must be installed inside.
Magnetic water softening system– magnets are placed around your water supply pipes, and the magnetic field 'suspends' the process which causes scale build up from hard water. Your water is still hard water, it just wont cause any lime-scale deposits in your pipes, or in your appliances.
Compact size and weight– 6.7 x 1.6 x 3.5 inches in size, and weighs in at under 2 pounds
Low power usage– 110 volt system which runs on approximately 5 watts.
Money back guarantee– all purchased get a 12 month, money back guarantee, if not satisfied with the system
Lifetime warranty– great lifetime repair and replacement warranty, to make sure your covered for good.
What We Liked About Eddy Electronic Water Descaler
Super small size – when compared to other water softening systems, its small, and light. Combine this with the fact that is easy to install yourself, you get a quick and easy water softening system solution.
It will barely cost anything to run – since it runs of 5 watts (the same as a night-light) and there is nothing to add, no salts, filters, no maintenance. Just buy it, install it, and be done with it. This also means its an environmentally friendly choice, as there is no wastage or brine to dispose of.
Nutrient benefits of hard water remain – since it works in such a way that doesn't eliminate hard water mineral, but rather suspends them, you still get the beneficial nutrient's in your water, such as calcium (which is proven to reduce heart disease)
Money back guarantee – a huge bonus is the 12 month 100% money back guarantee, and lifetime warranty- this almost makes it a risk free purchase. Actually, IT IS a risk-free purchase. Many people are still not convinced on how important these technologies are to our homes but having this money-back guarantee is surely a good convincing argument to try out the product. If you are still not convinced, try it out! And, you'll find a massive difference in your way of life after buying the Eddy Electronic Descaler.
What We Didn't Like About Eddy Electronic Water Descaler
Not a permanent hard water solution – The main disadvantage of using a magnetic type water softener system is that its not a permanent solution- your water will revert back to hard water within 48 hours, and all the negative effects will start to arise again- mainly the emergence of soap scum.

Magnetic systems are also quite ineffective in softening very hard water- many customers who have hard water tend to receive no benefits whatsoever. For this same reason, scale build up in your pipes will not be reduced- just delayed, when using a magnetic softening system.
Will not work on lead or iron pipes – If you have lead or iron water pipes (rare, but still prevalent in very old homes), this system will not do anything for you at all- completely ineffective as the magnetic reaction will not work.
As great as the 12 month money back guarantee sounds, be careful to read the fine print. If you return it within 30 days, your all good, but over 30 days, and you may be subject to an 'amazon restock fee'.
Household's with Hardness levels under 20 GPG – If you have constant hard water issues, we recommend that you opt for a water softener instead.
Environmentally conscious 
consumers – mother earth will thank you for using this system.
Very large households – Do you have more than 2 bathrooms? This will not work for you.
Households with water hardness over 20 GPG – you need a real (salt-based) water softener if this describes you, so visit this page and check out our top choices.
The Verdict
If you experience an average level of hard water in your home, you should definitely consider this system- it is inexpensive, easy to install, and even easier to maintain/run.
If those annoying soap scum spots seem to bother you quite often, you most likely have water which is above average in hardness, so this system will not
be the best choice for you. If you find yourself here, take a look at some of our other top rated systems here, and find something better suited for you.
All-in-all, a great system for the average American household, and with a 12 month 100% money back guarantee, you really don't have anything to lose. Try it, and if it works, great, if not, return it and think about a different type of water-softening system (e.g. a great salt based water softener)
Our Rating: 4 out of 5 stars